Photo Courtesy of Nothing To Wear Showroom
I purchased my first faux-fur vest about two years ago I, therefore, consider myself a relatively new fan of this piece. Why did I wait so long to add this multi-functional piece to my wardrobe? I was of the misguided opinion that a faux-fur vest was not a good investment piece. I considered them to be too ostentatious to incorporate into my work wardrobe and too overwhelming for my petite frame. Although, they are consistently a fall and winter fixture there was no persuading me that they could become a wardrobe staple. I continued to bypass them in boutiques and emphatically make the following statements to those in my social sphere: "Where would I wear a faux-fur vest?", "Why would I wear a faux-fur vest?", "When would I wear a faux-fur vest?" After two years and endless outfit pairings I have become a convert. I am not a fan of fall or winter; therefore, believe me when I state, "One of the best things about fall and winter in the mid-west is that I get to my wear my faux-fur vests."
The list of clothing and accessories that can be paired with faux-fur is endless. A faux-fur vest brings instant glamour to any outfit which makes it such an appealing garment. A faux-fur vest also elevates an ensemble while incorporating an extra layer of warmth on cold days. It is commonly the stand-out piece when combined with jeans, corduroys, sweaters and tees because it makes the most basic outfit stand-out which somehow makes it like a magic elixir that I, along with many others, reach for over and over again. If you have a faux-fur vest flaunt it this season. Please don't let in languish in the back of your closet.
If you yearn to try this trend, just go for it. I look back now and wonder why I waited so long. Faux-fur vests come in a variety of lengths from cropped to hip-length. As a result, finding a vest that best fits your frame and height has never been easier. Furthermore, the quality of the material that comprises a faux-fur vest has improved tremendously over the past few years. Top quality faux-fur vests are, as a result, readily available at budget-friendly stores.
Follow me on Google Plus or Facebook for fashion tips. I will be providing, within the next couple of days, a list of fashion-forward ways to wear faux-fur vests as well as a shopping guide of where to buy the most fashionable and affordable vests.
Related Stories:
Miss Renaaye,
Let's Talk Fashion: Styling Your Faux-Fur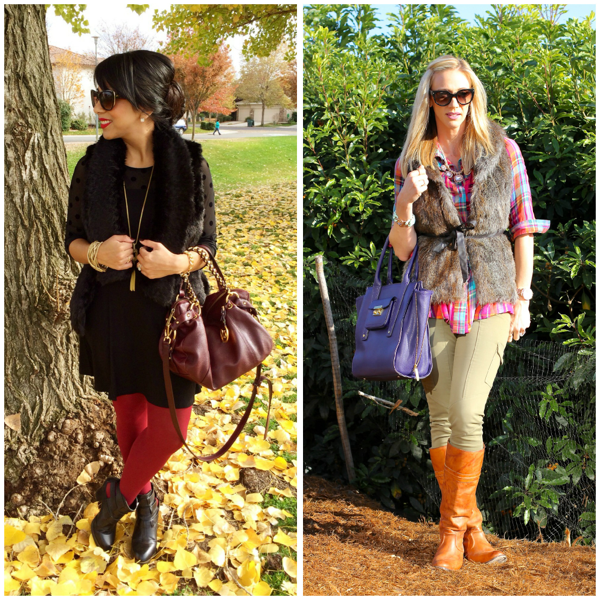 Sequins and Things,
Faux Fur Fun
To be Bright Style,
Furreal Faux